Path of The Sexual Shaman,
.
with Dr Kenneth Ray Stubbs
.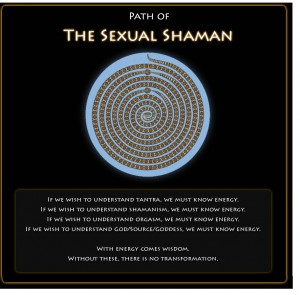 A TRAINING IN SHAMANIC TRANSFORMATION
in Prestwick • 6pm till 9pm on 26th-31st March 2013.
This empowerment training transforms and enables our "subtle energy" bodies to merge and engage with another's luminosity. The objective is to develop our inherent "shamanic infrastructure," which enables us to function in all dimensions. We focus on clearing, balancing, and intensifying our earth-wind-water-fire energies.
The energetic approach here can be used in conjunction with your personal meditation practice and the professional methods you are already employing.
CONTACT: Gillian Alexander • 07913 906 343 • gillian@sacred-touch.co.uk
(Booking form)
~~~~~
You can watch a fascinating interview with Ray about his work in shamanism and about the two workshops he offered in 2012 here http://vimeo.com/36409051
and you can find more information about Ray's training and session work at http://sexualshaman.com/seminars.html
~~~~~
WHEN: Tuesday, 26th March – Sunday, 31st March, 2013 – 6 classes
TIMES: Evenings, 6pm – 9pm
WHERE: class meets in Prestwick, Scotland with Ray teaching via Skype
FOR WHOM: Somatic, Psychological, and Energetic practitioners, plus spiritual seekers
FEE: • £395 per person, early bird £330 if paid by 10th August
• If bring a friend: 2 people £650 (equivalent to £325 per person), early bird by 10th August: £590 (££295 pp)
REGISTRATION: email Gillian Alexander at gillian@sacred-touch.co.uk
INSTRUCTOR: Kenneth Ray Stubbs, Ph.D.
Ray is the creator of The Shaman Cards: Ceremonies for Energy and Wisdom. He has been on a shamanic path for over two decades and is a 13-year SunDancer. Tibetan Buddhism has been a major influence in his life. He has studied and taught many somatic modalities and has written/created over a dozen books and DVDs on sexuality, including The Essential Tantra and Women of the Light: The New Sacred Prostitute.  He co-created the 90-minute documentary The Sacred Prostitute, and his most recent documentary is Path of the Sexual Shaman: Teachings on Energy, Orgasm, and Wisdom. More about Ray: www.SexualShaman.com
The techniques learned in this course are valuable for everyone in their personal lives and especially for practitioners of all kinds.
Ray came to an understanding of shamanic abilities from Native American medicine people (shamans). Being in ceremony with them and receiving healings from them, he perceived something deeper was happening energetically than in most of the somatic and psychological modalities he had experienced. The medicine people were able to direct their energies within him in ways very different than what most practitioners can do.
Instead of teaching the mind with information or the body with techniques, Ray's teaching engages and develops your energy systems to function in some of these same ways as shamans. The healing and transformative results for your clients are deeper and more profound.
~ ~ ~ ~ ~
There are a couple of major advantages to this type of group training – one would be that the cost is considerably reduced (from £540 per person to as little as £295 if you pay early bird rate and book with a buddy).  The second major plus to working this way comes from working with other members of the group – as you will see we each benefit from each individual's own growth and development.
~ ~ ~ ~ ~
"I began my own journey with Ray in studying Path of the Sexual Shaman on a one to one basis in May 2011.  I have continued to study with him since then and my growth and development has been profound, impacting on my daily living and especially on my work with clients and students.  I have had many comments from those who are sensitive to energy about the  intensity of my energy and presence and many are drawn to work with me themselves as I have now developed to a level that would be described by Ray as Master Shaman." ~ Gillian Alexander
************
A masterful shaman is one
who has the abilities
to transform/heal
in all dimensions,
the seen and the unseen.
Path of the Sexual Shaman
A training including
A. The Shaman's Energy
B. The Shaman's Wisdom
C. The Shaman's Allies
D. The Shaman's Abilities
SKYPE: sexualshaman
520-743-8100 x102 in Tucson, Arizona USA
*************************
from the Path of The Sexual Shaman documentary:
"What is shamanism?
What is a sexual shaman?
To transform an energy pattern, a shaman must first literally merge with that energy pattern. Likewise, at the moment of orgasm when we are making love with another, we merge energetically with our partner.
To develop shamanic abilities, we need energy- lots of energy. But it is not the type of energy we receive from food. We need a more primordial form of earth-wind-water-fire energy. Sexual orgasm is one of the primary ways to generate such an energy.
Expanding our understanding of shamanism and our sexual nature, we come to see that conscious sexuality, far from being an obstacle, can be a powerful part of stepping onto a shamanic path".